I usually post the new additions to my TBR on sundays but this week I have no new addition to report. I've had to curb my book buying and mooching because, unless I buy a new house soon, I have run out of space to store books.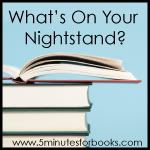 But I realised that this month I totally forgot to post about
What's On Your Nightstand
so I'll just use this post to mention some of the books that are presently keeping me company in the bedroom and waiting their turn to be read:
I'm almost done with this one and I am loving it. Chadwick never fails to draw me into the medieval world and I can't wait to get to Mahelt's story. This will be my E entry for the ABC Challenge.
I have the audiobook to listen when the weather gets better and I start doing some much needed walks but since what I have is an abridged version I want to read the book before so I can compare.
A series I've been meaning to continue but it seems something else always gets in the way. Maybe this month I'll get to it.
I love this series and I can't wait to find out what is going to happen next. It's also an entry for the 101 Fantasy Challenge.
And more Patricia Briggs because I also love Charles, Anna and Bran. Yes, I wish Bran would have more "screen" time.
I'm sure I'll read others in between these but those I'll choose according to my mood at the time. ;-)