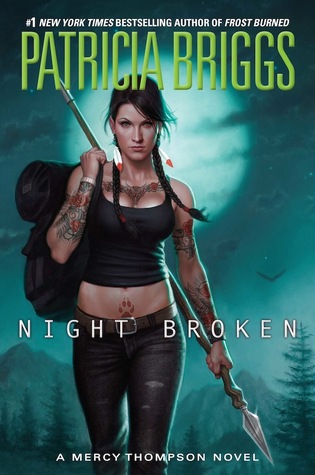 An unexpected phone call heralds a new challenge for Mercy. Her mate Adam's ex-wife is in trouble, on the run from her new boyfriend. Adam isn't the kind of man to turn away a person in need—and Mercy knows it. But with Christy holed up in Adam's house, Mercy can't shake the feeling that something about the situation isn't right.
Soon, her suspicions are confirmed when she learns that Christy has the farthest thing from good intentions. She wants Adam back and she's willing to do whatever it takes to make it happen, including turning Adam's pack against Mercy.
Mercy isn't about to step down without a fight, but there's a more dangerous threat circling. Christy's ex is more than a bad man—in fact, he may not be human at all. As the bodies start piling up, Mercy must put her personal troubles aside to face a creature with the power to tear her whole world apart.
I was looking forward to this book ever since I first heard about it. I haven't been tempted by the other Briggs series but this one and the A&O set in the same world are real favourites.
This story follows closely the same plot lines that has been developed in the previous books: Mercy is living with her mate and his pack but the pack, or at lest certain members have a hard time adjusting to Mercy and she is given a hard time. While it didn't stop me from enjoying the book I think it's time to give it a rest.They should either accept Mercy or go away before this starts to be boring instead of just annoying.
Besides said pack members in this story Mercy has to deal with Adam's ex-wife who is on the run from a monster. I didn't much like Christy. She is manipulative and self centered. But I never really felt Mercy was threatened by her because Adam did a good job of not allowing her to play him like she did some of the others. I wouldn't have minded to see live elsewhere though.
The monster Christy is running away from is based on an interesting mythology and I really liked that. I also liked the new character - Gary - and was a bit disappointed in Coyote. He and Christy would have made a good match.
I was sorry not to see Bran though...
Grade: 4/5