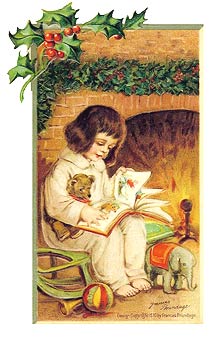 I seem to have to have fallen in a reading slump and I only read one book in October. Besides not being in the mood the problem is that I have had little free time. I'm going through all my books organising them for a new project, I'm trying to create a Home Management Binder to help me in my everyday life and reading blogs and books about the same theme (to give you an idea my current read is Elaine St James' Living the Simple Life) and at the end of the day I am just too tired to read.
But I want to find time to read more and, as usual, I want to grab some Christmas books to read in December. I'm thinking that if I start organising early I might just be able to do it all so I am starting a list of what I have in the TBR pile or new (and old) releases that have caught my eye so that I may have time to get everything ready:
A Christmas Hope - Anne Perry
A Christmas Homecoming - Anne Perry
Take Me Home for Christmas - Brenda Novak
Candlelight Christmas - Susan Wiggs
Mischief of the Mistletoe - Lauren Willig
Silent Night - Deanna Raybourn
I also have all those Signet Christmas anthologies that I love to reread at this time. I wish they were still being published because those always get me in the right mood for the season. If anyone has any new (or old) Christmas books to recommend I would love to have more titles to add to my list!